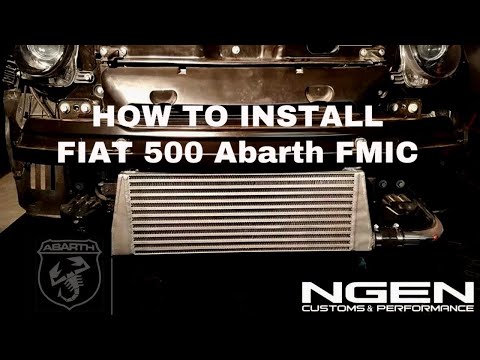 NEW VIDEO IS UP! HOW TO INSTALL a FMIC on a Fiat 500 Abarth. In this video, we show you how to install a NGEN FMIC (Front Mount Intercooler) by CHQ on a Fiat 500 Abarth. This applies to 2012+ Fiat 500 Abarth, 2013-2016 Fiat 500 Turbo and 2018+ Fiat 500 Turbo. This installation video can also be used to help guide you installing an Eurocompulsion FMIC as well as an ATM.
Tools Needed:
Phillips Head Screwdriver
Flathead Screwdriver
3/8" Socket Wrench
3/8" Extension
7mm Wrench
10mm Wrench
13mm Wrench
7mm Socket
8mm Socket
10mm Socket
13mm Socket
T27 Torx Bit Socket
10mm Deep Socket
14mm Deep Socket
15mm Deep Socket
17mm Deep Socket
Window Felt
Electric Impact
Heavy Duty Electric Impact
Torque Wrench
If you LIKE the video, please give it a THUMBS UP!
Make sure to SUBSCRIBE and hit the NOTIFICATION BELL so you never miss a video!
To purchase a NGEN FMIC for your Fiat 500 Abarth or 500 Turbo, please visit:
https://ngencustomsandperformance.co...rth500t&page=5
For all of your Fiat, Abarth & Dodge Dart performance parts, please visit out website at:
https://www.ngencustomsandperformance.com
Instagram:
@ngencustomsandperformance
Facebook:
/ngencustoms
Questions:
E-mail:
[email protected]
Call/Text: 832-948-9409