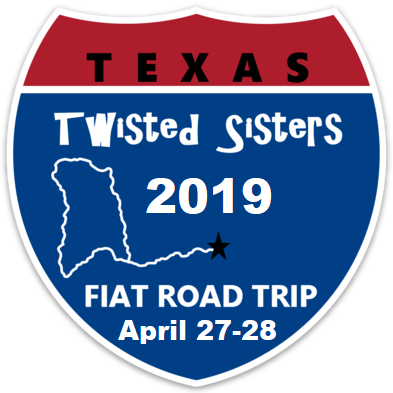 Join us for the 5th Annual Texas Twisted Sisters Fiat Road Trip for 2019, brought to you by NGEN Customs & Performance!
Grab your keys and fire up your Fiat as we get ready to blast through the Texas Hill Country on this epic drive of the "Twisted Sisters". This is a 2 day event of grand proportions with beautiful scenery, lots of twists and turns, awesome prizes, delicious food and great company! This is an amazing opportunity to put your Fiat to the test!
Event Date: April 27, 2019 - April 28, 2019
Registration will open January 1, 2019!
PLEASE NOTE: We have decided to move the event to April instead of June. The reason for this is due to the intense heat that is not only hard on the cars but can also be unpleasant with the attendees! Weather for April in Kerrville, TX is typically in the mid 70s to low 80s and the chance of rain is the same as it is in June per weather patterns from previous years (stats provided by timeanddate.com/weather for the last week of April of 2015-2018) .
More details and itinerary to come! In the meantime, please feel free to e-mail us at:
info@ngencustomsandperformance.com